Born from an idea of Gabriele, the owner, since 1994 it offers the magic and enchantment of a unique natural context in the world in one of the most beautiful terraces of the Costa Smeralda.
Located in a unique environment, on the hill of Pantogia, 2 km from the center of Porto Cervo, it offers a panoramic view that goes from the Gulf of Pevero to the island of Tavolara.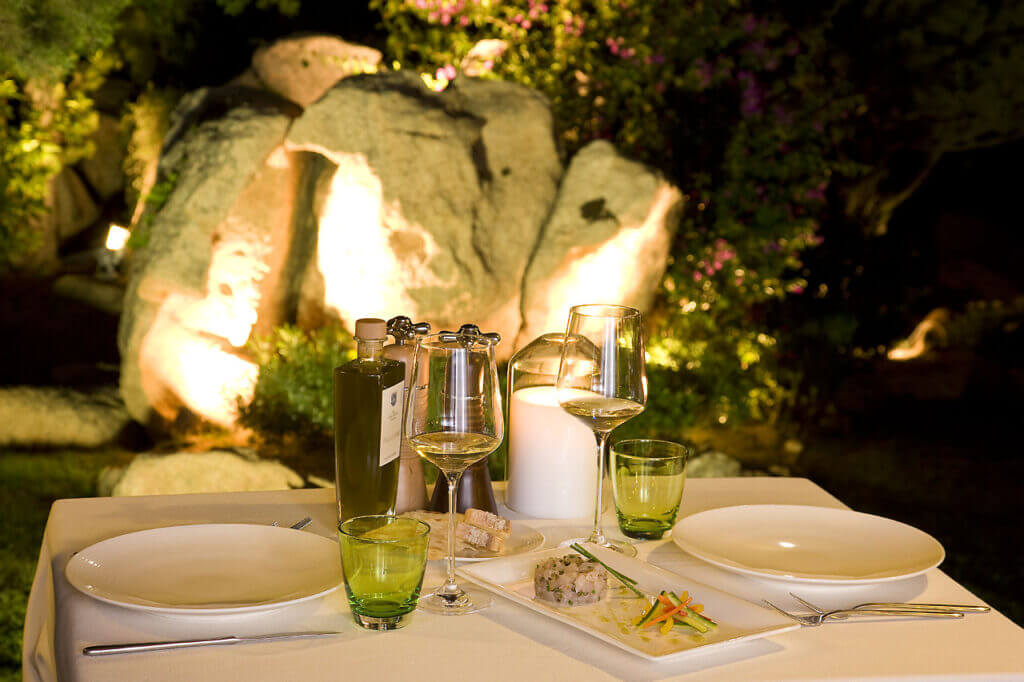 The particular attention to detail makes I Frati Rossi not only a restaurant of the highest level, but also an environment that combines professionalism and elegance with the courtesy typical of family management. These characteristics carried out with consistency for over twenty years make it a must in the catering of Porto Cervo
The external parts allow customers to eat on the beautiful Gulf of Pevero, one of the most beautiful views of the Costa Smeralda. The isolated location of the restaurant also allows you to enjoy the silence of the Sardinian countryside.
Seafood cuisine in porto cervo, the red friars porto cervo and seafood cuisine in porto cervo Pantogia
| Events Ceremonies and anniversaries | private rooms | theme nights | Weddings | Catering on request | Privee in front of the garden | Gala Dinner | Intimate dinner | Business dinners | | Birthdays Large summer terrace with Panorama Golfo del Pevero| Champagne | Fine wine cellar selection of important | wines Intimate | Meat and fish menu | Oysters and Crustaceans |  Fresh | pastries Fresh fish
International 5.5. Metre Class - World Champion
Porto Cervo from 24/09 to 29/09
Restaurant I Frati Rossi offers a complimentary shuttle service for crews and accompanying teams participating in the 5.5 Meter Class regatta. Enjoy a convenient and delicious dining experience with us!
Luigi Marrocco
2021-09-14
Spiaggia Del Piccolo Pevero Beach
2021-09-06
Sempre ottimo.
FERNANDO PADELLETTI
2021-08-31
Fabio Stefano Crispino
2021-08-26
Il top in costa Smeralda,uno dei locali più belli e dove si mangia divinamente
Samuel Ferrante
2021-08-20
CHIARA PAOLINI
2021-08-12
cucina marinara a porto cervo, i frati rossi porto cervo e cucina marinara a porto cervo pantogia
Always attentive to the environment, to Sardinian companies that stand out for quality.
At the Frati Rossi Restaurant you will find Emerald Water at the table.